Laser Hair Removal For

Laser Hair Removal For


Dark Skin Tones
Does laser hair removal work for people of color? Here's the truth about laser hair removal for dark skin tones.
Laser hair removal…
is safe and effective for all skin tones.
eliminates shaving side-effects like folliculitis.
costs less than maintaining a shaving/waxing routine.
Say goodbye to unwanted hair. Permanently.
clients see

0

%+ results
after 7‑10 treatments On average.
after 7‑10 treatments On average.
Why Laser Hair Removal is Safe for All Skin Tones
It's a pretty common misconception that laser hair removal won't work for people with darker skin tones. While this might have been true when the FDA first approved laser hair removal back in the late 90s, technology has advanced over the years in order to make it safe for even the darkest of skin tones.
However, it's important to mention that some places that advertise laser hair removal services are really using IPL or Intense Pulsed Light technology—the same outdated technology found in most at-home devices. This is not a real laser and should NEVER be used on darker skin tones! Not only does it offer inferior results, but for people of color it may lead to burns and complications.
Our laser, the GentleMax Pro, provides the safest treatments for darker skin tones. It uses two lasers — one fair skin (Alexandrite) and one that's for darker skin (Nd: Yag). The Nd: Yag technology has a weaker melanin absorption rate, and longer wavelengths which make it safe to use on dark skin tones.
This combination of technologies allows our highly-trained medical professionals to create customized treatment plans to fit the exact needs of each client's skin tone and hair type. With us, there's no "one size fits all" when it comes to treatment plans. It's this customization that enables us to safely and effectively perform laser hair removal on any skin tone—from the fair to the darkest.
The only question now is: Are you ready to get the smooth, hair-free skin that you've always wanted? Schedule your free consultation today!
Laser Hair Removal for Darker Skin Tones
When done properly, laser hair removal is safe for all skin tones. However, there are a few things that you'll want to know before choosing who does your laser hair removal.
Technology. It's important to make sure that the right laser technology is used for your treatments. For darker skin tones, Nd: Yag laser technology

—which is what we use—

is the best

for providing safe and effective laser hair removal treatments

.
Expertise.

Finding out if the treatment provider has experience performing laser hair removal on darker skin tones should be a crucial part of your research.

For instance, our providers are all Authorized Candela Practitioners and are supervised by medical doctors.
Life-Long Results.

The Nd: Yag laser usually requires more treatments to achieve your hair-free goals.

With Milan's exclusive Unlimited Package™, which comes with every purchase, you get unlimited treatments for life at one affordable price.
Have unanswered questions about laser hair removal for dark skin tones? Our friendly, knowledgeable staff are happy to answer any questions you may have.
Schedule your free consultation to learn more about laser hair removal today!
Benefits of the Unlimited Package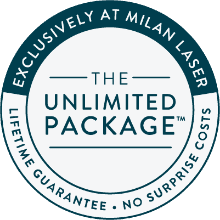 While most people are 95%+ hair free in 7 to 10 treatments, our exclusive Unlimited Package™ (included, at no additional cost, with every area!) gives you unlimited treatments for life.
So, for one affordable price you get all of the sessions you'll ever need to be hair free. FOR LIFE! That means if a stray or new hair shows up 6 months, or even 10 years down the road… we'll take care of it permanently for you. No questions asked. No touch-up fees, EVER.